When engagement ring shopping, the most important elements to consider is the quality of the ring and choosing a ring that's affordable for you as a couple that matches the personality of the future bride.  Whether you opt to go with tradition and abide by the "two-month salary" rule or decide to spend your entire savings on an extravagant ring, it's essential that you pick something you both will cherish.  Here are a few helpful tips to guide you through the engagement ring selection process.
Consider Her Jewelry Style
Since your future wife will be wearing her engagement ring for the rest of her life, it's important to get a sense of her jewelry style before you begin ring shopping.  Start by identifying the type of metal she typically wears, if she's into lavish jeweled accessories or prefers simple pieces, and if she's fond of a particular gem or cut of diamond.  Keep the wedding band in mind since it will be part of her wedding ring set.  If you feel she's most likely to do her engagement ring with her wedding ring as a set, you may want to go with a more subdued piece that would pair well with any wedding band; however, opt for something more glamorous if you think she'd be more likely to wear the engagement ring on its own.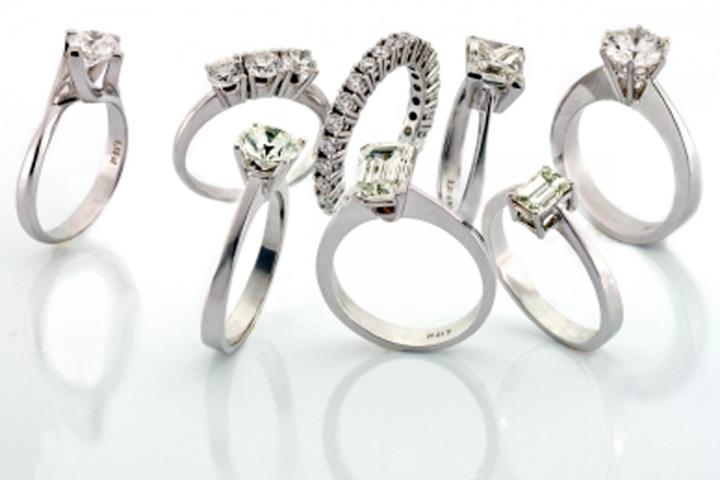 Select Your Stone and Setting
Recent engagement ring trends suggest that modern brides are moving away from traditional engagement rings and going for more uncommon, unique styles.  From colorful diamonds and gems to vintage settings, there is an assortment of alternatives to the classic ring style.  If you don't want to go for the traditional white diamond, choose a jewel that's meaningful to you as a couple, such as a family heirloom or your future spouse's birthstone or a diamond in a brilliant color that can be used in your wedding color scheme or match your bridesmaids' gowns from David's Bridal.   Again, make sure that whatever stone you pick complements your setting and the metal you choose for your band.

Contemplate the Cut and Customizations
After choosing your stone and setting, you must next decide on the cut of the gem or jewels that will decorate your engagement ring.  For the more traditional bride, try a classic cut like an elegant pear cut or the chic cushion cut, or if you're future wife is more inclined to follow trends and likes bolder pieces of jewelry, then consider a more embellished style, such as a glitzy round cut or the squared princess cut.  Once you've found the perfect stone and picked the cut and setting design, you can customize your ring with intricate details and unique garnishments.  Some customization options include adding diamonds to the band and etching messages in the interior of the ring.  Consult jewelers at 77 Diamonds for assistance in building your ring.  Because of the numerous options available, you can determine just about every aspect of your engagement ring, and, with a little patience, you can craft the perfect ring.